Acu-Med Therapy™️–An Ultimate Relaxation Experience!
We have something exciting and new to share with you.
First a question: What do acupuncture, research, AcuGraph, and COVID-19 all have in common? 
Probably not a lot, unless your name is Dr. Kimberly Thompson. As you all know, when I am not in my clinic I also do acupuncture research for Miridia Technology. Since we all went into hibernation for COVID-19 in the spring, I've been working on a new RESEARCH project which includes measuring ACUPUNCTURE pathways with ACUGRAPH before and after a new treatment I have developed for my clinic. 
The new treatment is called Acu-Med Therapy™️. It involves treating several body points with a laser, ear acupressure, and meditation. 
I've done test studies and have found that this combination is amazing for balancing the acupuncture pathways without needles. I've proven that it balances the acupuncture pathways with AcuGraph. 
The best part of it is the meditation...
Have you ever had a WEIRD meditation experience?
Before I tell you more about Acu-Med Therapy™️, I'm going to tell you my first meditation experience. I'm warning you now, it was WEIRD!
Many years ago, I was introduced to meditation from some weird people. I will never forget that experience. It was my first day at hippie massage school. We were sitting in a circle, crosslegged on round pillows (mind you I was a bigger girl at the time, sitting crosslegged on a pillow was already out of my comfort zone).
The guy sitting across from me was sitting crosslegged with big baggy pants where the crotch went to his knees. There was a GREAT BIG hole in his crotch. AND, he was NOT wearing underwear!!! The instructor wanted us to stare into the candle and say "ohhmmmmm...." while we went into a relaxation space.
You guys. I just can't un-remember that experience. I couldn't look at the candle. I had to close my eyes because the guy with the hole in his crotch was the only thing I was trying to get out of my mind. 
Okay, so why do I tell you this story? Because there are some weird people in the world. You probably don't want those people to teach you how to meditate. 
Acu-Med Therapy™️ is NOT weird. I promise. Actually, the meditation that I have created is pretty amazing. It has to do with balancing the acupuncture pathways.
And here's where it gets interesting... With every experiment in my research project, the graph got better. A LOT better!

AcuGraph and Acu-Med Therapy™️ 
Take a look at the picture below. Then bottom graph was BEFORE Acu-Med Therapy™️. The middle one was immediately after. The top one was the next day. Isn't this amazing? I love that AcuGraph allows me to measure the results of any type of therapy I do. If find a therapy that changes the graph, then I know it is a good fit for my patients.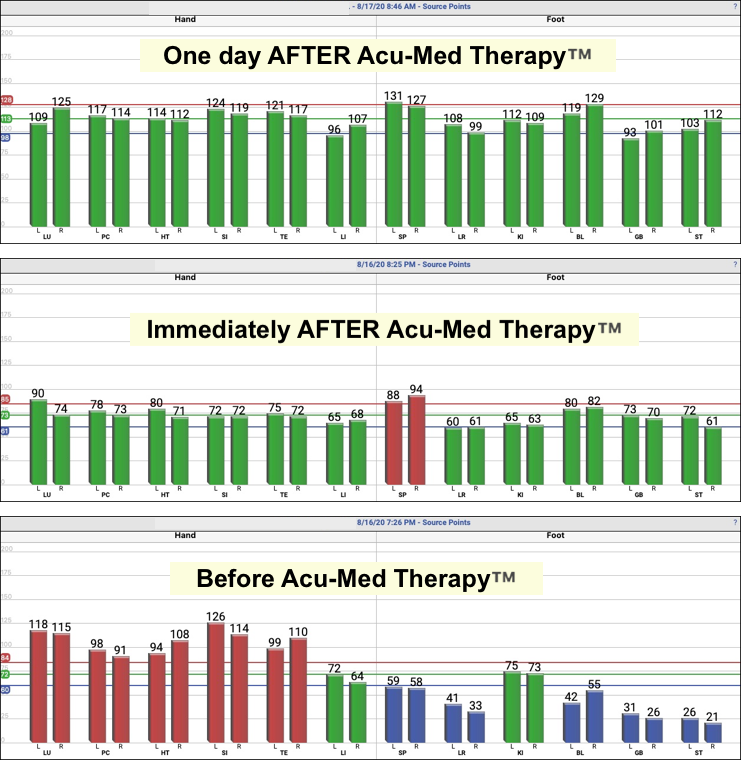 This graph analysis ONLY included the Acu-Med Therapy™️ meditation. No acupuncture needles were used. 

Why Acu-Med Therapy™️?
When patients come in for acupuncture, we help them to resolve their issue, then they go home. After treatment they always ask...
"Dr. Kimberly, how do I stay in balance when I'm not getting acupuncture?"
There are a lot of components related to how the body gets out of balance, the the number one cause of imbalance is STRESS.
Meditation is also great for stress. I've spent years encouraging patients to learn more about meditation techniques, but the truth is most of them just don't go and do it. Maybe because they think it's weird? ;-)  

Acu-Med Therapy™️ was developed because of my own personal experience learning how to meditate. It's really been life changing for me...

I've learned to relax
I sleep better
I can resolve my one pain
I'm less stressed
AND--it helps me to hear my inner voice. 
What Acu-Med Therapy™️ will do for YOU...
Balance your acupuncture pathways between your normal acupuncture visits.
Relieve STRESS
Boost your Immune System
Learn how to meditate in a beautiful space that isn't WEIRD!
 

Are you ready?
We are SOOO excited for you to experience Acu-Med Therapy™️ in our brand new Rejuvenation Room. You are going to love it! And, the whole session is only $50. Make sure you go to the website and read everything that is included. 
You can book online for yourself and your family/friends. Or you can call us. 
See you soon,
Dr. Kimberly Thompson, DACM, L.Ac.
Meridian Family Acupuncture
1879 N. Lakes Place
Meridian, ID 83646
P.S. This is a GREAT option for any family or friend who is undergoing the stress of a brand 2020 COVID-19 style school year! (Teens, parents, teachers, parent/teachers, etc!)
P.S.S. We have Acu-Med Therapy™️ gift certificates!