We Specialize in Helping 

YOU FEEL BETTER
(even if you've been feeling crappy for a very long time)
• • •
Chronic Pain, Anxiety, Depression,Insomnia, More
If you are 

ready to be DONE 

feeling sick, tired and miserable...



YOU ARE IN THE RIGHT PLACE.
"I've suffered from migraines since childhood. Eventually I had migraines 5 days per week. I tried many specialists. I tried every over the counter medication possible. I felt hopeless. Thankfully I found Dr. Kimberly. After two weeks of acupuncture I was pain free."

Alishia

Meridian, Idaho
Hope is Not Lost.
We can Help You.
Are you completely frustrated because none of your doctors are helping you find solutions that actually make you feel better?
You've been feeling crappy for a REALLY long time...

Perhaps

you started out with a few aches and pains, and now you have a bunch?

A couple of over the counter pain relievers used to work. Now they don't.

Now you have a pile of prescriptions medications from your doctor.

And a lot of miserable side effects.
You used to have a lot of energy, and now you hardly have any.

Your emotions are all over the place.

Nothing is working.

Your quality of life sucks.

You are afraid of what is coming next.



Friend, I'm glad you're here.
You're in the right place.

Hello. I'm Dr. Kimberly Thompson and I'm so glad you are here!
There are NO coincidences in life.
You are in the right place.
I REALLY get you, and I'm confident that acupuncture can help.
I've been working with patients just like you for more than 20 years. And guess what? 
YOU can feel better
YOU can get better
YOU don't have to be miserable

I know this, because I have seen these types of excellent results with my patients over and over again. I have a proven system that will work for you too, just like it worked for the hundreds of women I've helped over the years.

I'm a doctor, 

but I'm different

than other physicians. Why?
AcuGraph Digital Meridian Imaging System
AcuGraph combines modern science PLUS traditional Chinese Medicine.   


AcuGraph allows me to digitally measure your acupuncture meridian system and 

SEE where you have blockages in the body.


With AcuGraph, we will watch your progress from visit to visit.



After 5000 years, we can finally PROVE with science that acupuncture really works.
Acupuncture and MORE
As a practitioner, I have over 20 years of experience including acupuncture, auriculotherapy, massage therapy, energy healing, ThetaHealing, herbology, vibrational therapy, nutrition and MORE.  



Each of your sessions is specially designed to fit YOUR specific needs.
You'll save time and money because you won't have to see several different practitioners.

You're in the Right Place 
"Kimberly has been treating me and my family for several years--doing a wonderful job for all kinds of conditions. Her knowledge and skill are evident in every treatment, as are her gifts for healing. I highly recommend Dr. Kimberly Thompson and Meridian Family Acupuncture."

Dr. Adrian Larsen

Meridian, Idaho
Here are some of the ways I'm DIFFERENT than other Physicians.
Ancient Medicine PLUS
Modern Science

A  Computerized System to 
Track Your Progress

Customized Treatment Programs
(Rather than Single Treatments)

Traditional Acupuncture PLUS

Non-Needle Acupuncture Techniques
Hands-On Intuitive
Treatment

More than 20 Years of
Clinical Experience

Easy to Follow Lifestyle
Modification Programs

Healer, Teacher,
Mentor

"Dr. Kimberly Thompson is next level! I walk in feeling "meh" and leave feeling awesome! I love the various modalities she uses to bring healing to the body. From headaches to body aches, tendonitis, severe muscle pain, and even Osgood–Schlatter's in my son, she restores our quality of life! I have complete confidence in her ability to tackle any ailment we face and highly recommend her!"

Jennifer

Boise, Idaho
You don't have to feel crappy.
Chronic Pain
Anxiety
Depression
Insomnia
And MORE 
PS: Here are 3 acupuncture points you can treat on yourself RIGHT NOW to help your headaches!
It may sound too good to be true, but after 25 years of experience, I've seen these 3 points work miracles in my patients' lives.
Download my *FREE* guide, 3 Acupuncture Points for Headaches you can Treat at Home (Without Needles!), right now to try them out!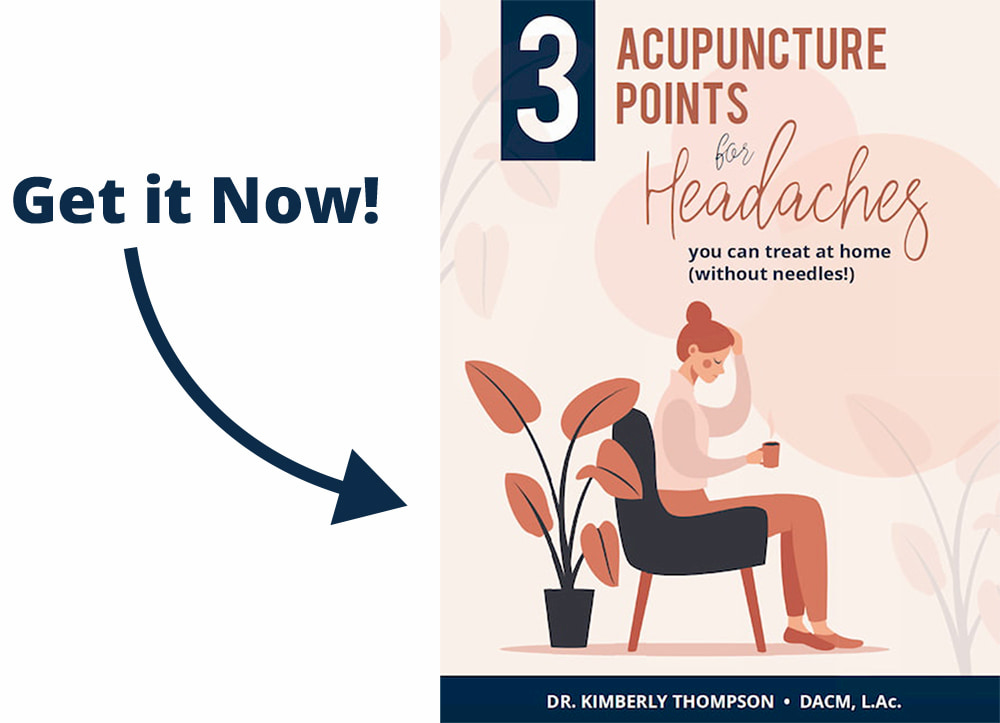 We hate spam too. Unsubscribe at any time.